This is my boy as a baby, giving me the middle finger, he only sleeps when he wants to and not before.
We've all had them, I have them more often then not. The long drawn out days after nights of hell with our little shits darlings.
So here is my survival list for getting through the day when your a sleep deprived zombie parent and you still have to act like an actual human-being and function in normal society.



1) Caffeine - Lucozade / red bull / coffee - what ever works for you, get some!





2) Dry Shampoo - It is a life savour.





3) A to do list - because you still have to do important shit even when you're sleep deprived and you wont remember even though you tell yourself that you will! I use my reminder list on my iPhone, for everything.





4) Junk food - yea I know its bad for you and all that crap, but sometimes only comfort food will do. For me this is: McDonald's, obviously. Anything with hot melted cheese, like enchiladas. Chocolate, lots of it. Cake it's hard to not smile at cake.



5) Support, not just a good bra - You may want to lock yourself away, preferably in the dark with no human interaction but don't do it! Turning into a self pitying recluse doesn't help. My advice is to rant and moan out loud to anyone who will listen.
Places I've found comfort in my misery: Mumsnet, Twitter, blogging and the obvious friends and family.
My post on my own sleep deprivation
Here is a few posts on this sleep lark from the amazing
The dad network
Need help getting your baby to sleep advice from sleep expert jo tantum
Help my baby doesnt sleep
Linked up to: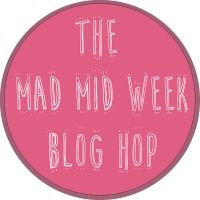 This is a Blog Hop!